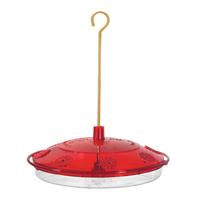 • Brass Rod Is Beautiful and Dependably Durable, Circular Perch Ring Provides Hummingbirds With A Resting Place.
• Snap Fit Cover Makes For Easy Cleaning.
• Nectar Guard Tip To Block Bees and Flying Inserts From Contaminating The Nectar.
• Size 10, Capacity 1 Quart, Ports 8. Acrylic Feeder, Brass Rod; Pole Mountable By Using Model# Adapt.
.
Droll Yankees - Happy Eight Hummingbird Feeder - Red - 1 Quart product is categorised under Wholesale Droll Yankees products, Wholesale Wild Birds, Wholesale Bird Feeders and Accessories.