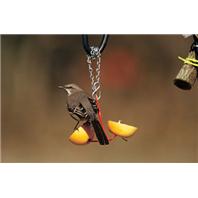 • Easy Way To Offer Oranges To Orioles and Other Fruit Eating Birds.
• 4 In Diameter; 18 Chain; Powder Coated In Orange, To Attract Orioles.
• Dishwasher Safe, Strong Rust Resistant Chain.
Droll Yankees - Fruit Feeder - Orange product is categorised under Wholesale Droll Yankees products, Wholesale Wild Birds, Wholesale Bird Feeders and Accessories.