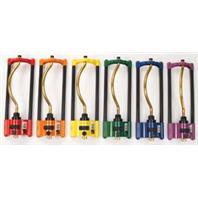 • Variable Settings Allow Coverage Up To 3036 Sq. Ft.
• Durable Brass Jet Holes With Nozzle Needle For Simple Clean Up.
• Six Vibrant Colors: Red, Orange, Yellow, Green, Blue and Purple.
Dramm Corporation - Colorstorm Oscillating Sprinkler - Assorted product is categorised under Wholesale Dramm Corporation products, Wholesale Lawn & Garden, Wholesale Hose Nozzles, Hangers & Sprinklers.