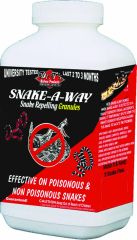 NOTE : This Product is Restricted to AK, CA, HI
• Repels Poisonous & Nonpoisonous Snakes By Temporarily Disrupting The Snake's Sensory Reception.
• Snake-A-Way Is Detected By A Snakes Sensory Organ & Instructs The Snake To Avoid The Product.
• Apply Around Houses, Cabins, Trailers, Garages, Flower Beds, Barns, Woodpiles, Trash Cans Or Anywhere Snakes Are Undesired.
• Use Outdoors Around Pools, Homes, Camping Areas and Wood Piles.
• Greater Than 91% Repellency For Rattlesnakes and Checkered Garter Snakes. Won't Harm Snakes.
• When Odor Of Product Is Diminished Retreat.
Ingredients:
Naphthalene and precip. Sulfur. Shuts down sensory perception causing retreat.
Dr Ts Nature - Snake-A-Way - 1.75 Lb product is categorised under Wholesale Other Brands, PA products, Wholesale Lawn & Garden, Wholesale Animal & Insect Control.