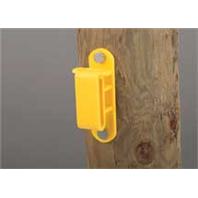 • For Any Polytape Up To 1.5 Wide.
• Insulators Grip Tape Tightly To Prevent Whipping and Sawing.
• Heavy Tape Holder Unlocks To Aid Installation.
• Wood Post Insulator For Tape.
• Complete With Nails.
• Molded Of All-Weather High Density Yellow Polyethylene.
.
Dare Products - Wood Post Tape Insulator - Yellow - 25 Pack product is categorised under Wholesale Dare Products products, Wholesale Lawn & Garden, Wholesale Electric Fence and Equipment.