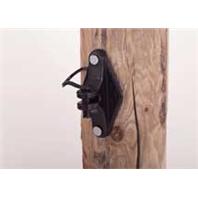 • Heavy Cross Sections Stand The Pressure Of High Tensile Fencing.
• Large Flange Prevents Shorts and Arcing.
• Locks and Unlocks Fence Wire.
• High Density Polyethylene With Carbon Black For Superior Uv Resistance. Complete With Galvanized Ring Shank Nails.
Dare Products - Wood Post Pinlock Insulator - Black - 25 Pack product is categorised under Wholesale Dare Products products, Wholesale Lawn & Garden, Wholesale Electric Fence and Equipment.