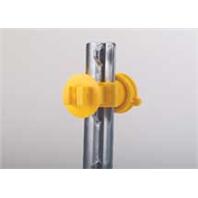 • Adjusts To Fit: Steel T-Posts, Small, Medium, Large, With/Without Studs; Fiberglass T-Posts, Medium and Large Sizes Only.
• Insulator Opens To Attach Anywhere.
• Adjustable.
• High Density, Molded Polyethylene.
Dare Products - Western Insulator For T Posts - Yellow - 25 Pack product is categorised under Wholesale Dare Products products, Wholesale Lawn & Garden, Wholesale Electric Fence and Equipment.