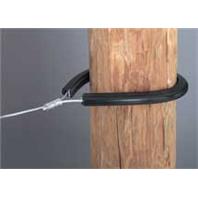 • Provides Insulation For 90 Degree Turn Or End Loop On Any Style Post.
• Heavy Sidewalls Provide Extra Protection Against Shorts Or Grounds.
• Metal Insert Is Designed To Take High-Tensile Strain.
• Tubular Corner Post & End Post Insulator.
• Molded Of Polyethylene With Carbon Black To Withstand The Elements. 19.5 Long.
.
Dare Products - Tubular Corner Post Insulator - Black - 10 Pack product is categorised under Wholesale Dare Products products, Wholesale Lawn & Garden, Wholesale Electric Fence and Equipment.