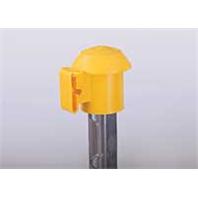 • Protects Horses and Other Valuable Livestock From Sharp, Jagged T Post Tops.
• Large Heavy-Duty Cap/Insulator Can Be Installed With Wire Holders Facing Front, Back, Right Or Left.
• Holds Wire, Polywire, Polyrope, and Polytape Up To 1.5 Inches.
• Fits All T-Posts and Can Be Nailed On Top Of Wood Posts, Features Uv Inhibitors For All Weather Performance.
• Molded, High Density Polyethylene.
.
Dare Products - T Post Topper Insulator - Yellow - 10 Pack product is categorised under Wholesale Dare Products products, Wholesale Lawn & Garden, Wholesale Electric Fence and Equipment.