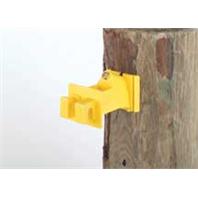 • Insulators For Wood Posts.
• Rests On 3/4 Nail Surface and Extends Wire 2.5 From Post.
• Flexible Base Fits Round Or Flat Sided Post.
• Molded Of High Density Polyethylene With Uv Inhibitors For All Weather Durability.
• Yellow Polyethylene With Uv Inhibitors.
.
Dare Products - Extend Wood Post Insulator - Yellow - 25 Pack product is categorised under Wholesale Dare Products products, Wholesale Lawn & Garden, Wholesale Electric Fence and Equipment.