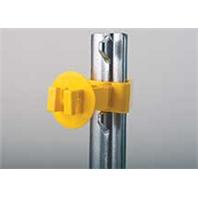 • The Extra Length Snug Insulator For T Posts Is Designed To Perform With Solid State Electric Fence Shockers.
• Features Up Inhibitors For All-Weather Performance With A Large Flange That Prevents Arcing.
• Extends Wire 2 Inches From Face Of T-Post.
• Snaps On and Around Post. Molded Of High Density Polyethylene.
Dare Products - Extend T Post Insulator - Yellow - 25 Pack product is categorised under Wholesale Dare Products products, Wholesale Lawn & Garden, Wholesale Electric Fence and Equipment.