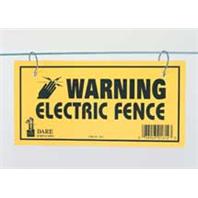 • Place Near Or On Wire To Warn Against Electric Fencing.
• Two Holes To Nail On Post Or Hang From Wire.
• 4 X 8 Black Lettering On Bright Yellow Laminated Vinyl.
.
Dare Products - Electric Fence Warning Sign - Yellow - 3 Pack product is categorised under Wholesale Dare Products products, Wholesale Lawn & Garden, Wholesale Sign Boards.