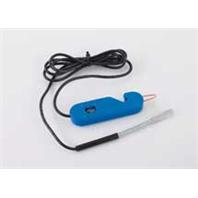 • Essential To Make Spot Checks In The Field.
• Tells Whether Fence Is Working and Helps Locate Faults Such As Opens, Shorts, and Partial Grounds.
• Lamp Protected By Resistor.
• Single Electric Fence (Lamp) Tester.


.
Dare Products - Electric Fence Tester - Blue product is categorised under Wholesale Dare Products products, Wholesale Lawn & Garden, Wholesale Electric Fence and Equipment.