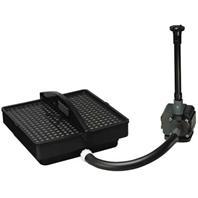 • Offered As The Easy and Practical Way To Encourage Sales By Matching Pumps With Filters
• Includes Fountain Heads With Tubing and Fitting Where Necessary
• Can Be Used With Rigid Or Flexible Liners
• For Medium To Large Ponds Up To 1250 Gallons
Ingredients:
700 gph pump. Deluxe filter system. Bell and adjustable fountain head. Tubing and fittings. Mechanical biological and chemical filtration. Packed 2 per master.
Danner Eugene Pond - Pump and Filter Kit - Black - 700 Gallon product is categorised under Wholesale Danner Eugene Pond products, Wholesale Pond Supplies, Wholesale Pumps, Filters & Accessories.