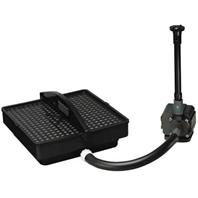 Suitable for medium ponds up to 1000 gallons. Can be used with rigid and flexible liners.
Ingredients:
500 gph pump. Deluxe filter system. Bell and adjustable fountain heads. Tubing and fittings. Mechanical. Biological and chemical filtration. Packed 2 per master.
Danner Eugene Pond - Pump And Filter Kit - Black - 500 Gallon product is categorised under Wholesale Danner Eugene Pond products, Wholesale Pond Supplies, Wholesale Pumps, Filters & Accessories.