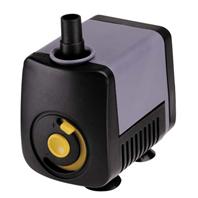 • Specifically Designed For The Demands Of A Pond.
• Magnetic Drive Pumps Are Made To Run Continuously, Without Seal To Wear Out.
• Since It Is Filled With Epoxy, Not Oil, It Cannot Leak Oil Into The Pond.
• Suitable For Statuary, Fountains, Ponds and Aquariums.
Ingredients:
65 gph pump. 26 shut-off valve. Built in adjustable flow control. 6 grounded power cord. Packed 4 per master.
Danner Eugene Pond - Mini Pump - Black - 65 Gallon product is categorised under Wholesale Danner Eugene Pond products, Wholesale Pond Supplies, Wholesale Pumps, Filters & Accessories.