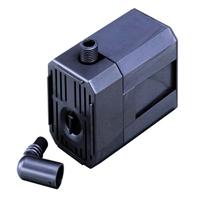 • Specifically Designed For The Demands Of A Pond
• Made To Be Run Continuously, Without Seal To Wear Out
• All Pumps Are Suitable For Statuary, Ponds, Fountains, and Aquariums
Ingredients:
190 gph maximum flow with a 7 shut-off. 1 grounded power cord. Can be used horizontal and vertical. Ceramic shaft. Foam pre-filter included. Elbow included. Packed 4 per master.
Danner Eugene Pond - Magnetic Drive Pump - Black - 190 Gallon product is categorised under Wholesale Danner Eugene Pond products, Wholesale Pond Supplies, Wholesale Pumps, Filters & Accessories.