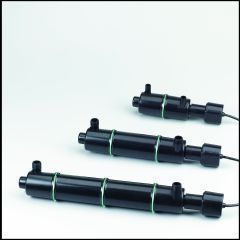 • Glowing Monitor Rings Visible From Any Angle Immediately Shows Its Working
• Comes Complete With A 9000 Hour, Long Life Lamp and Water Tight Quartz Sleeve.
Ingredients:
Fully submersible. Glowing monitor halo ring tm. Comes complete with 9 hour, long life 1 watt lamp and water tight quartz sleeve. Includes transformer and 18 grounded power cord.
Danner Eugene Pond - Clarifier/Sterilizer - Black - 10 Watt product is categorised under Wholesale Danner Eugene Pond products, Wholesale Pond Supplies, Wholesale Pond Sterilizers.