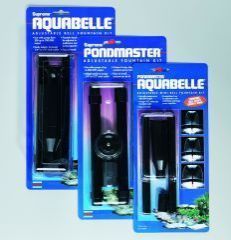 Add the sparkle and sound of moving water while helping to aureate it.
Ingredients:
Small adjustable bell (mushroom ) pattern. Includes two 7" extensions. Suitable for pondmaster 80-190 gph pumps.
Danner Eugene Pond - Bell Fountain Head Kit - 80-190 Gph product is categorised under Wholesale Danner Eugene Pond products, Wholesale Pond Supplies, Wholesale Pumps, Filters & Accessories.