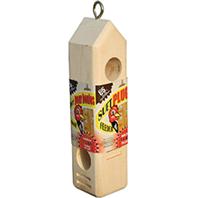 • Feeder To Hold C & S Suet Plugs, Holds Up To 4 Plugs
• Insert Plugs Into Feeder Holes, Compress Plugs Into Feeder Until They Fit Snugly
• Size: 3. 50 In X 3. 50 In. X 12. 75 In High
C and S - Suet Plug Feeder product is categorised under Wholesale C and S Products products, Wholesale Wild Birds, Wholesale Bird Feeders and Accessories.