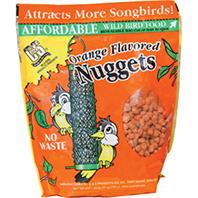 • Nuggets Can Be Feed Alone On A Platform Feeder Or Nugget Feeder Using 1/3 Wire Mesh
• Can Also Be Blended With 5-10 Lbs. Of Your Favorite Wild Bird Seed Mix
• Appealing To Suet, Insect, and Fruit-Eating Songbirds
• Resealable Bag, No Waste
• Made In The Usa

Ingredients:
Rendered beef suet, peanuts, corn, oats and orange flavoring.
C and S - Suet Nuggets - ORANGE 27 Oz product is categorised under Wholesale C and S Products products, Wholesale Wild Birds, Wholesale Food & Treats.