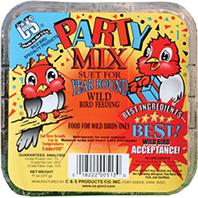 • Treats Become Soft and Pliable At 100 Degrees and Return To Normal At Room Temperature
• Treats and Delights Are Nutritionally Balanced To Provide Wild Birds With Much Needed Energy
• Create Lees Waste, Less Mess and Are Longer Lasting
• Place In Suet Feeder and Hang From The Trunk Or Branch Of A Tree
• Can Also Be Placed In A Nylon Mesh Bag

Ingredients:
Rendered beef suet, roasted peanuts and raisins. Weight: 11 oz.
C and S - Party Mix Suet - 11 oz product is categorised under Wholesale C and S Products products, Wholesale Wild Birds, Wholesale Food & Treats.