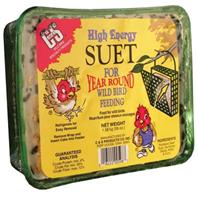 • For Wild Bird Feeding Year Round
• Nutritionally Balanced To Provide Wild Birds With Much Needed Energy When They Need It
• For A Suet Bird Feeder, A Wire Cage, Which May Be Placed In The Trunk Of A Tree Or Hung From A Branch Or Sheppard S Hook
Ingredients:
Rendered beef suet, sunflower seeds, millet, cracked corn. Weight: 3.5 pounds.
C and S - High Energy Suet - 3.5 Lb product is categorised under Wholesale C and S Products products, Wholesale Wild Birds, Wholesale Food & Treats.