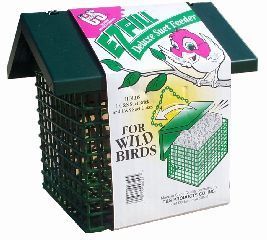 • Green, Full Steel Roof, Bottom Door With 2 Closures and Chain Hanger
• EZ Fill Makes The Chore Of Filling Easy
• Holds 1 Brick Or 4 Cakes
• Size: 6In X 6. 25In X 6. 25In High

C and S - Ez Fill Deluxe Triple Suet Feeder - Green - 6.25 Inch product is categorised under Wholesale C and S Products products, Wholesale Wild Birds, Wholesale Bird Feeders and Accessories.