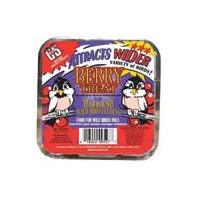 • Treats Become Soft and Pliable At 100 Degrees and Return To Normal At Room Temperature
• Attracts Wider Variety Of Wild Birds
• For Year-Round Wild Bird Feeding
Ingredients:
Rendered beef suet, millet, berry flavoring, and corn. Weight: 11.75 oz.
C and S - Berry Suet Treat - 11.75 oz product is categorised under Wholesale C and S Products products, Wholesale Wild Birds, Wholesale Food & Treats.