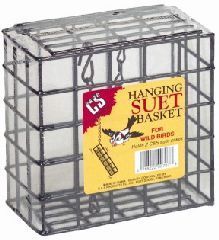 • Vinyl Coated Black Wire Double Wide Basket With Chain Hanger
• Suet Baskets Are A Necessary Key To Your Successful Wild Bird Feeding
• Will Hold Two Suet Cakes Back To Back
• Size: 2. 75 In. X 5. 25 In. X 5. 25 In
C and S - Back To Back Double Suet Feeder - Black - 5.25 Inch product is categorised under Wholesale C and S Products products, Wholesale Wild Birds, Wholesale Bird Feeders and Accessories.