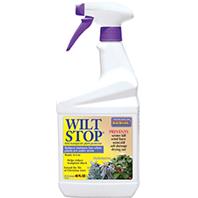 • A Natural, Non-Toxic Product, Derived From The Resin Of Pine Trees
• Forms A Soft, Clear Flexible Film On Treated Plants Which Protects From Drying Out, Drought, Wind Burn, Winter Kill, Etc
• Ready-To-Use Formula. No Mixing. No Mess
• Helps Reduce Transplant Shock
• Reduces Moisture Loss When Plants Are Under Stress
• Extends The Life Of Christmas Trees and Greens
Ingredients:
5. 0% pinene.
Bonide Products - Wilt Stop Plant Protector Rtu - 40 oz product is categorised under Wholesale Bonide Products Inc products, Wholesale Lawn & Garden, Wholesale Chemical Herbicides.