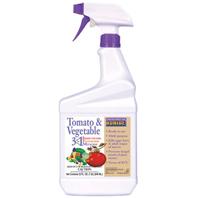 • Multi-Purpose Fungicide+ Miticide+ Insecticide For Use On Tomatoes and Vegetables
• Effective On All Stages Of Insects Life Cycle, From Egg To Adult, So Timing Isn T Critical For Control
• Prevents As Well As Controls Disease Outbreaks
• May Be Used Right Up To The Day Of Harvest
• Endorsed By Organic Growers
Ingredients:
Natural botanical extract of neem. 9%.
Bonide Products - Tomato & Vegetable 3-In-1 Rtu - 1 Quart product is categorised under Wholesale Bonide Products Inc products, Wholesale Lawn & Garden, Wholesale Animal & Insect Control.