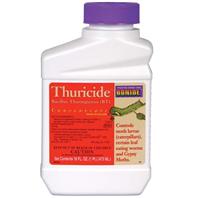 • Controls Caterpillars, Loopers, Cabbageworms, Hornworms, Leaf Folders, and Leaf Rollers
• Can Be Applied To Plants Up To The Day Of Harvest
• Won T Harm Beneficial Insects
• Labeled To Control Gypsy Moth Larvae On Trees. Best Applied When Caterpillars Are Small In Size
• Labeled For Use On Ornamentals, Fruits and Vegetables
Ingredients:
Bt kurstaki 0. 80% (liquid formulation of bacteria).
Bonide Products - Thuricide BT Concentrate - Pint product is categorised under Wholesale Bonide Products Inc products, Wholesale Lawn & Garden, Wholesale Chemical Pesticides.