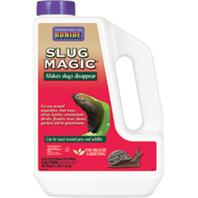 • All Weather Formula Makes Slugs Disappear
• Biodegradable and Safe For Use Around Pets and Wildlife, Worms and Beneficials
• Can Be Used In Fruit and Vegetable Gardens Up To The Day Of Harvest
• One Pound Treats 1, 000 Square Feet
• Remains Effective After Rain Or Sprinkling
• The Bait Is Attractive To Slugs and Snails and Draws Them Out Of Their Hiding Places
Ingredients:
Iron phosphate 1. 0%.
Bonide Products - Slug Magic Pellets - 3 Lb product is categorised under Wholesale Bonide Products Inc products, Wholesale Lawn & Garden, Wholesale Fungicides/Repellents.