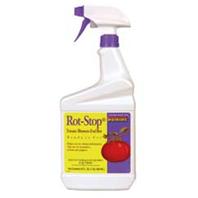 • Corrects Calcium Deficiency
• Controls Blossom End Rot On Tomatoes, Melons, Cucumbers and Peppers
• Apply To Developing Fruit and Foliage After Periods Of Heavy Rain Or Rapid Growth
• Ready-To-Use Trigger Sprayer Container. No Mixing Required
• Apply In Early Morning Or Evening To Prevent The Possibility Of Foliage Burn
• Make Applications 5 To 7 Days Apart
Ingredients:
1. 6% calcium derived from calcium chlorine.
Bonide Products - Rot Stop Tomato Blossom Endrot - 1 Quart product is categorised under Wholesale Bonide Products Inc products, Wholesale Lawn & Garden, Wholesale Chemical Pesticides.