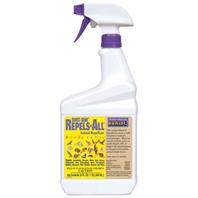 Note: This Product is restricted to IN, NM.

• All Natural Ingredients But Repulsive To Vermin and Other Undesirables
• Repels By Sense Of Touch, Taste and Smell
• Most Comprehensive Animal Repellent On The Market. Labeled For Over 20 Animal Pests
• Protects Plants and Property, Including Structures, For Up To 2 Months
• Rain Fast After Six Hours
• Can Be Used Around Edible Crops
Ingredients:
Garlic, dried blood, whole egg solids, clove, fish oil, onion, kelp, wintergreen.
Bonide Products - Repels-All Animal Repellent Rtu - 1 Quart product is categorised under Wholesale Bonide Products Inc products, Wholesale Lawn & Garden, Wholesale Fungicides/Repellents.