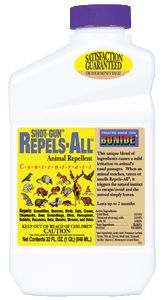 Note: This product is restircted to AK, IN, NM.

• Apply To Plants and Structures To Repel Chipmunks, Squirrels, Birds, Rabbits, Deer, Raccoons and Many More
• One Quart Makes 2 Gallons Of Finished Spray Material
• Environmentally Safe and Biodegradable
• Can Be Used Around Edible Plants
• Repels Listed Animals For Up To 2 Months After Application
Ingredients:
Garlic, dried blood, whole egg solids, clove, fish oil, onion and wintergreen.
Bonide Products - Repels-All Animal Repel Concentrate - 32 oz product is categorised under Wholesale Bonide Products Inc products, Wholesale Lawn & Garden, Wholesale Animal & Insect Control.