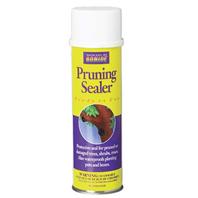 • A Protective Dressing Compound To Be Used After Pruning, Grafting, For Torn Bark Or Other Damage
• It Sets Quickly and Seals The Wound
• The Brown Color Blends With The Tree Bark
• Can Be Used In Any Season To Seal Wounds Of Fruit Trees, Ornamental Trees, Shrubs & Roses
• Hold 10-12 Inches From Surface
• Can Be Used As A Sealant On The Inside Surface Of Porous Clay Pottery. Prevents The White Effervescence.
Ingredients:
An antiseptic and a sealant.
Bonide Products - Pruning Sealer Aerosol - 14 oz product is categorised under Wholesale Bonide Products Inc products, Wholesale Lawn & Garden, Wholesale Soil Conditioners / Plant Aids.