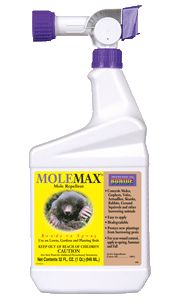 Note: This Product is restricted to AK, DC, IN, NM.

• Apply To Lawns To Repel Moles Voles Skunks Rabbits and Other Burrowing Animals
• Attach To Hose and Spray, Automatically Mixes With The Water Treats Up To 10, 000 Sq Ft Per Quart Bottle
• Safe To Use Around Children and Pets
• Use On Lawns, Gardens and Planting Beds
• Biodegradable
• For Year-Round Control Apply Spring, Summer and Fall
Ingredients:
Castor oil 100%.
Bonide Products - Molemax Ready To Spray - Quart product is categorised under Wholesale Bonide Products Inc products, Wholesale Lawn & Garden, Wholesale Animal & Insect Control.