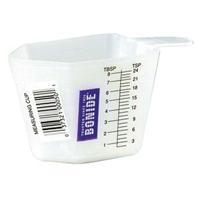 • These Handy 4 Oz. Cups Are Calibrated For Teaspoon, Tablespoon and Ounces To Provide A Reusable Measuring Device
Ingredients:
Plastic, 4 ounce calibrated cup.
Bonide Products - Measuring Cups - 4 oz product is categorised under Wholesale Bonide Products Inc products, Wholesale Lawn & Garden, Wholesale Miscellenous Lawn and Garden.