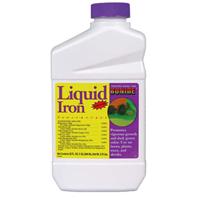 • Promotes Vigorous Growth and Dark Green Color
• Corrects Iron Deficiency
• Use On Turf, Flowers, Shrubs, Lawns, Plants and Trees
• Most Effective When Plants Are Growing Rapidly and Least Effective When Dormant Or Suffering From Stress
• Compatible With Most Pesticides and Fertilizers, With The Exception Of Amine Formulations and High Phosphate Fertilizers
• Apply 3-5 Times A Year
Ingredients:
5% iron, sulfur magnesium. 50%, total boron. 02%, total copper. 25%, total manganese. 25%, total zinc. 50%.
Bonide Products - Liquid Iron Concentrate - Quart product is categorised under Wholesale Bonide Products Inc products, Wholesale Lawn & Garden, Wholesale Soil Conditioners / Plant Aids.