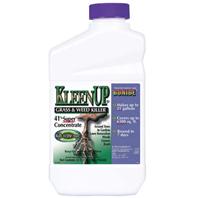 • Kills All Unwanted Weeds and Grasses. Can Re-Seed 7 Days After Application
• Great For Preparing Flower Beds, Vegetable and Ornamental Garden Sites and Renovating Lawns
• Will Not Leach. Becomes Inactivated Upon Contact With The Soil
• Systemic-Action Kills The Entire Plant, Including The Roots
• Visible Results Within 24 Hours. The Warmer The Temperature, The Faster It Works
• One Pint Makes Up To 21 Gallons Of Finished Spray Material
Ingredients:
41% glyphosate with surfactant.
Bonide Products - Kleenup 41% Concentrate - 1 Quart product is categorised under Wholesale Bonide Products Inc products, Wholesale Lawn & Garden, Wholesale Weed Control.