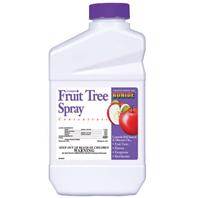 NOTE : This Product is Restricted to CA
• A Complete Liquid Fruit Tree Spray Excellent For The Home Orchardist
• Controls Both Insects and Diseases On Fruit Trees, Flowers, Evergreens and Strawberries
• Mix 1 1/2 To 2 1/2 Tablespoons Per Gallon Of Water As Directed In The Directions For Use
• Easy To Use; Mixes With Water Instantly, No Pre-Mixing
• Apply Using A Hose-End Or Tank Sprayer.
Ingredients:
A complete liquid fruit tree spray containing: captan 12%, malathion 6%, carbaryl. 3% and a spreader sticker.
Bonide Products - Fruit Tree Spray Liquid Concentrate - Quart product is categorised under Wholesale Bonide Products Inc products, Wholesale Lawn & Garden, Wholesale Chemical Pesticides.