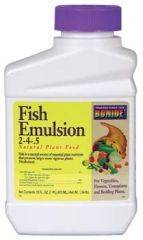 • Made By A Unique Cold Process That Protects The Vitamins, Amino Acids and Enzymes
• The Micro and Macro Nutrients Required By Plants
• No Unpleasant Odor
• Can Be Used On All Plants. Will Not Burn When Used As Directed
Ingredients:
Fresh atlantic fish remains.
Bonide Products - Fish Emulsion Concentrate - Pint product is categorised under Wholesale Bonide Products Inc products, Wholesale Lawn & Garden, Wholesale Chemical Pesticides.