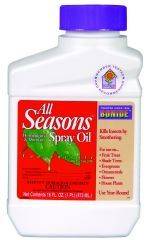 • Controls Insects, Such As Scale, Mites, Aphids, Thrips, Leaf Miners, Mealy Bugs, Whiteflies and Fungus Gnats
• Highly Recommended For Use On Fruit Trees, Shade Trees, Shrubs, Ornamentals, Roses, Vegetables and Houseplants
• Kills All Stages Of Insects, Including The Eggs. Kills By Smothering The Targeted Pest
• Will Not Stain. Readily Mixes With Water
• Insects Can Not Build Resistance To This Insecticide
• Safe and Pleasant To Use
Ingredients:
A superior-type parafinic oil.
Bonide Products - All Seasons Horticultural Oil Spray - 1 Pint product is categorised under Wholesale Bonide Products Inc products, Wholesale Lawn & Garden, Wholesale Chemical Pesticides.